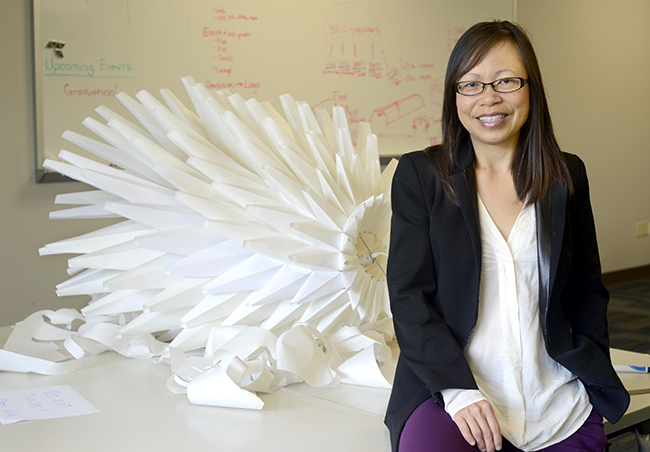 BY CARMEN SIERING
To call Jiangmei Wu an artist is accurate, but incomplete. Wu transforms media such as paper, vinyl, and sheet metal into beautiful, complex, three-dimensional objects by simply folding them. The constructions are held together by everyday materials such as grommets. Or nothing, when the object is made from a single flat sheet of material.
Wu's education and training are in design, and you see that reflected in her work and her attitude toward it. Wu earned her undergraduate degree in urban planning and design from Tongji University in Shanghai, China, before earning an M.S. in interior design and an M.F.A. in graphic design from Indiana University. "Art doesn't usually connect to functional needs, and design must have a purpose," Wu says. "But having these different backgrounds helps me integrate and blur the boundaries and come up with something that redefines them, so I can ask, 'What is design?' and 'What is art?'"
Science also plays a part in her work. Wu explains that while traditional origami focuses on sequential folds that lead to a figurative object, her work is much different. "All of the folds work together simultaneously in a self-organized manner," she explains. "These patterns weren't discovered by artists, they were discovered by scientists and engineers." And they are found in nature. "This is how nature works. It's how spring leaves unfurl. In science this is just a huge concept," she says.
Wu is busy, but happy, she says, working as a designer, artist, and assistant professor in the Department of Apparel Merchandising and Interior Design at IU. When she's working on large projects, she sometimes gets help folding from her partner, Ron Day, associate professor of library and information science at IU, and son Dexter Wu, 14, a student at Jackson Creek Middle School.
She also has students who assist her. "For a large installation there might be hundreds of panels, and every fold is made by hand," Wu explains. "The scale, the sheer size, it's impossible to do it alone. But when the folds are quite difficult, then I have to do them myself." For more information on Wu, her work, and current exhibitions, visit foldedlightart.com.