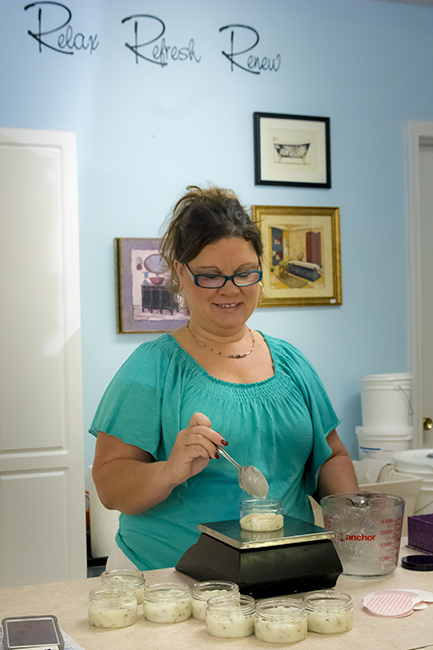 BY SARA SHEIKH
When Johanna Ferguson decided to sell handmade soaps for her son's school fundraiser, she didn't realize she was embarking on a new career. Three months and a few craft shows later, Ferguson opened Johanna Lee Bathology. The Nashville, Indiana, shop sells handmade and specialty soaps, bath bombs, sugar scrubs, and more.
Originally from Greenwood, Indiana, Ferguson graduated from Ivy Tech Community College–Columbus with a degree in commercial art design and advertising. She spent most of the next 20 years managing stores for retail giants such as Borders and Jockey before stepping away from the corporate world to spend more time with her son, who was then in elementary school.
Ferguson's latest foray into retail has proven to be a commercial success. Within a year of opening Johanna Lee Bathology, she needed more retail space and a larger production area. She found both when she moved the shop to its current location on Nashville's West Main Street. While she originally crafted all of her handmade soaps in the kitchen of her Columbus, Indiana, farmhouse, Ferguson now creates her products on-site at her store and at another location in northern Indiana.
"We're able to make most of our products without any chemicals or preservatives," she says. "We make soap on-site every day; it has to cure for four weeks. Because of the lengthy cure time, there's not enough space to make what we need out of this store, so we also have an off-site location to help with production."
Though Ferguson offers a small selection of soaps not made by Johanna Lee Bathology, she estimates that nearly 80 percent of the shop's sales come from the store's handmade items.
Ferguson feels her products' pricing makes the store popular with both locals and tourists, who she feels are often intimidated by higher-priced items found in other Nashville shops.
"Most people aren't going to come to a tourist town to spend $50 on an item for their home. They feel great if they can spend $5 or $10 to buy something," she says.
Johanna Lee Bathology is located at 58 W. Main St., Nashville, and online at bathologyjohannalee.com.